Earth Goddess to Celtic Saint
Manifesting our connection through Sacred Ceremony, Poetry, Song, Clooties, Holy Wells, and Nature.
April 29 – May 6th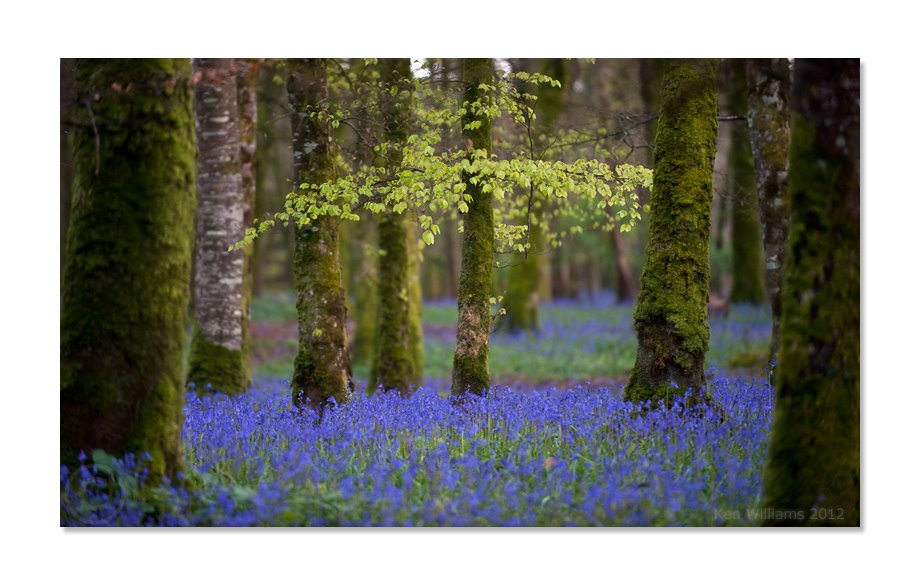 The Path from Earth Goddess to Celtic Saint. Between the worlds!
This wonderful, out-of-the-ordinary tour focuses on the South West of Ireland. From walks in the ancient woodlands and pilgrim's routes to Holy wells and stone circles. You will see Ireland as if you were born here. This is Joe's home. He grew up walking the back roads and winding paths to some of the most spectacular places in the south and West of the country. You will enjoy routes and locations only a local would know. We cover Limerick, Cork, Kerry, and Clare with nights in Bantry, Killarney, Dingle and Killaloe. We have full days in amazing places. Meet local musicians and guides and discover an Ireland where the soul belongs. Each day we take a walk on either country road or a winding path. Some sites we visit are Lough Gur, Inis Fallen, Craobh Dearg, Ballyvourney, Kealkill Stone Circle, Weather's Holy well.
---
Day 1
"The Gathering"

Flight into Shannon, We meet at the airport and our first stop is breakfast at a nearby hotel. Here our group will get to know each other before we begin our journey. Depart for Lough Gur Stone Circle to begin this adventure with our first connection to the land. Lough Gur is the largest stone circle in Ireland. From Lough Gur, we will go to the visitors center at the lake which is the home of the Goddess Aine (awnya). She has many guises. Most notable are the Celtic Sun Goddess and The Lady of the Lake. Lunch is in the beautiful village of Adare, then off to Kilsarcon cemetery to visit an interesting carving of a Sheela na Gig. We then drop off our bags at The Lake Hotel. We will head to the Hotel dock for an evening boat trip to the Island of Inisfallen, the island of learning, on Lough Lane, established by St Finian in the 6th century. We will sit within the abbey ruins and be enchanted and inspired by the words of local poet Eileen Sheehan.
3.00 pm. Overnight in Killarney.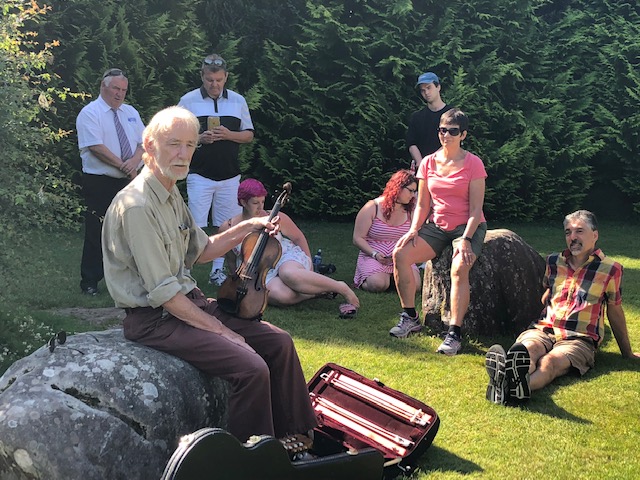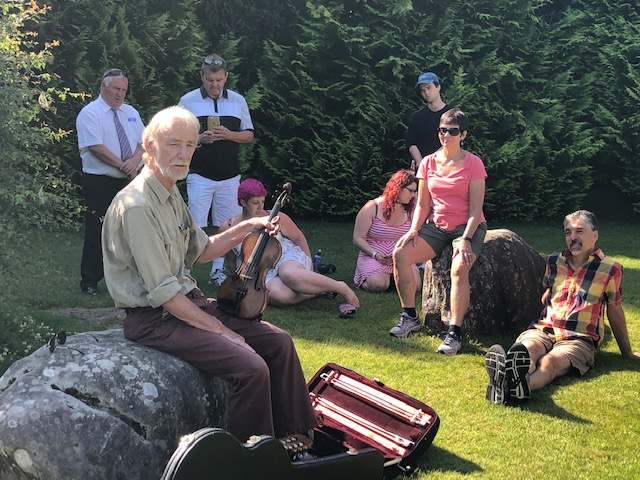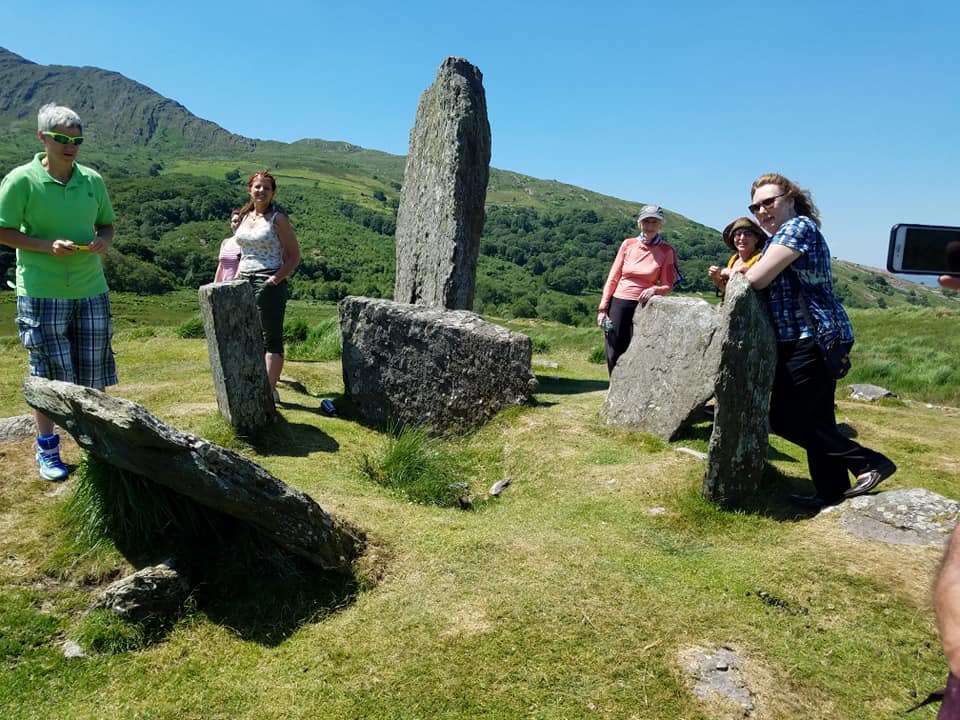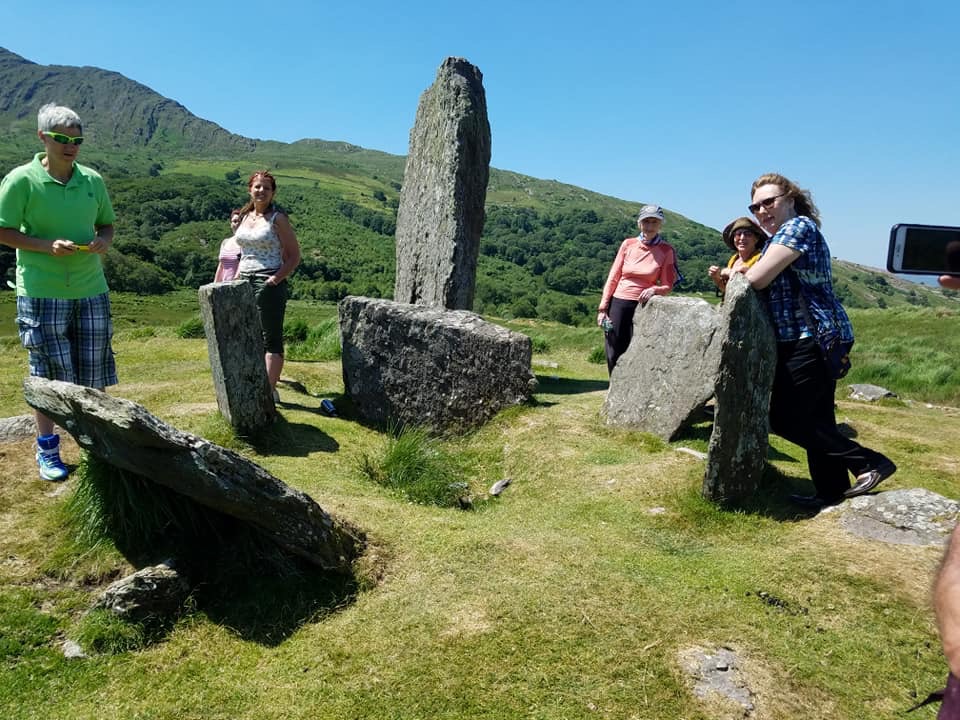 Day 2
"All in a day"
A morning walk to the beautiful Mucros Abbey or native woodlands before making our way to the Paps of Anu or Cathar Craobh Dearg (Fort of the Red Claw). This very ancient ceremonial fort dates back 5000 years and sits beneath a pair of mountains known as Da Paps Anu, (the breasts of Danu) associated with the goddess Danu of the Tuatha de Danann, one of the greatest tribes of Ireland.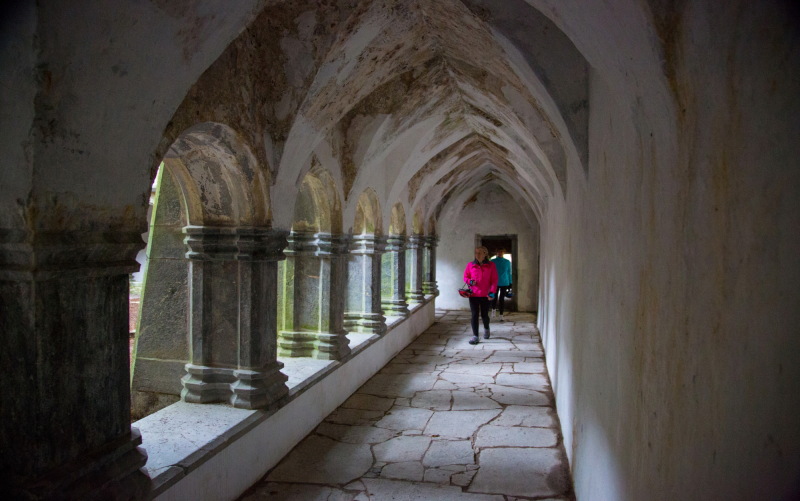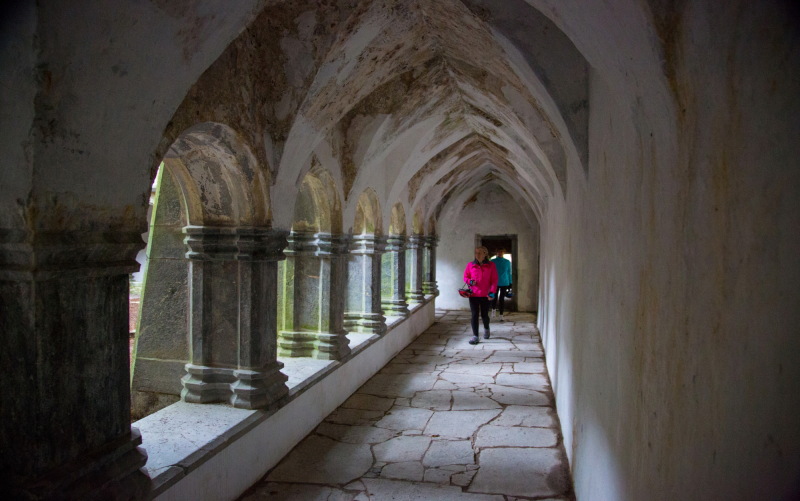 We will continue on to St Latiarn's Well in Cullen, Co.Cork. One of three sisters who is a local saint. Relax and enjoy the Cork countryside as we head to lunch in Ballyvourney before visiting St. Gobnait's well and shrine. St Gobnait was the patron saint of honey bees and as we all know, a few prayers for the bees can't go wrong.
Do take the time to find and touch the sacred Bulla stone. This stone is made of Agate and is said to possess strong healing powers.

5:00 pm Overnight in Killarney.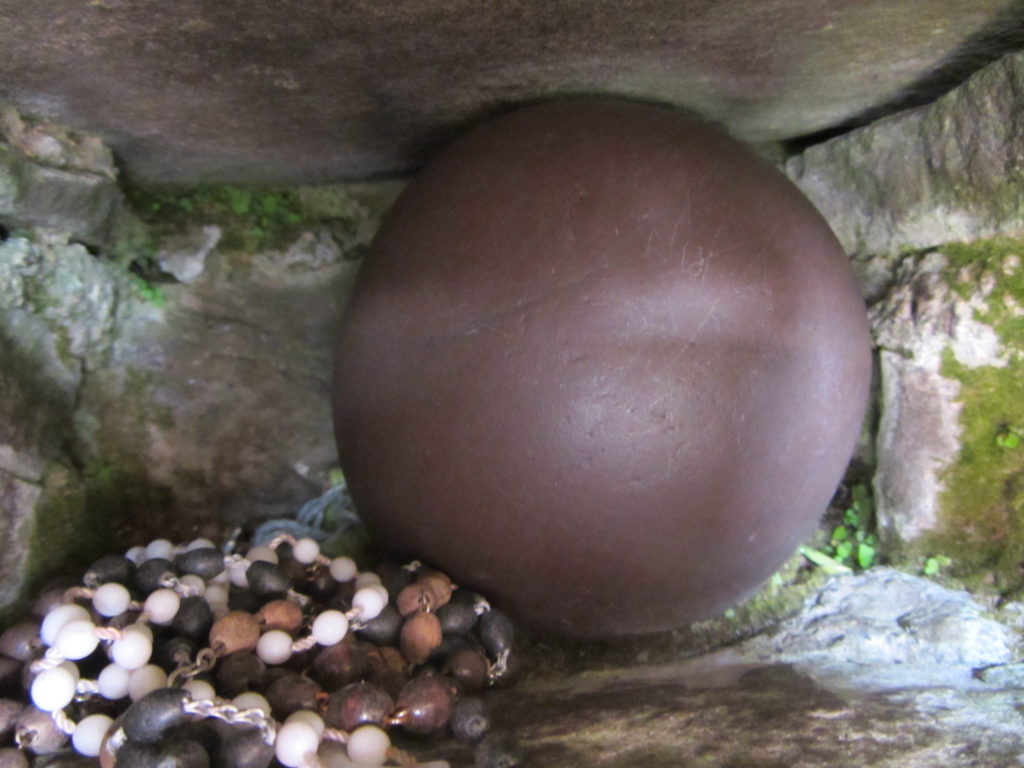 Day 3
"Finding Roots"
This morning takes us from Killarney with our first stop at Kenmare's Druid Stone Circle and onto the beautiful Beara peninsula with a stop at Uragh. A loop around the wee roads of Kilcatherine were we will stop to honor the Cailleach Beara. She is Ireland herself in all her glory immortalized in stone. Here we will leave an offering to the great queen. Not far down the road we will admire the Ballycrovane Ogham stone, the tallest Ogman stone in Ireland. After a stop in Castletownbere for lunch or a walkabout, if time allows,we will visit Dzogchen Beara center, a Buddhist temple for some quiet reflection and meditation.

5:00 pm Overnight in Bantry.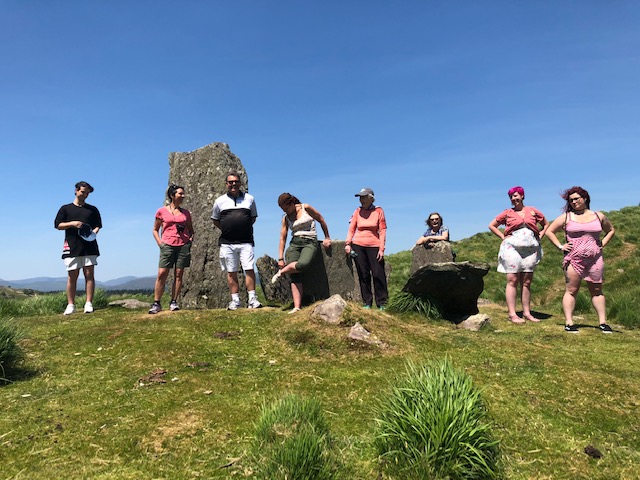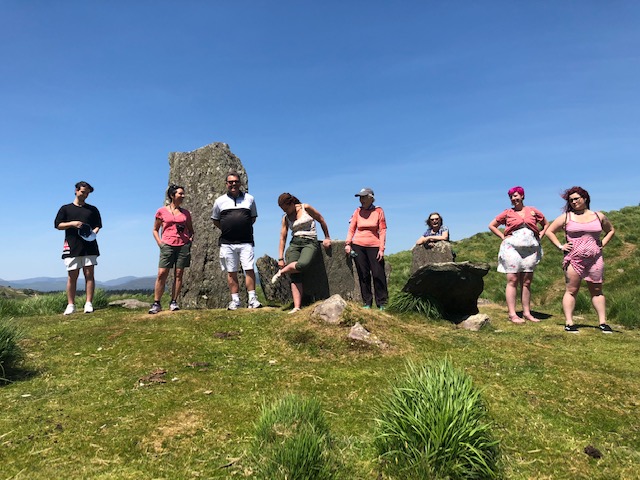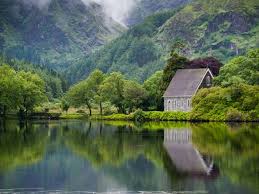 Day 4
"The Labyrinth"
Let's enjoy a morning walk in the woods and waterways of the Glengarriff Nature Reserve, a sanctuary filled with trails for the ambitious or if you are just looking to stretch your legs and take a relaxing stroll..Today you will have the choice of spending the day in the quaint village of Glengarriff or a visit to the Eue Experience, an artful wonderland not far away. Onward to enchanting West Cork to experience Drombeg stone circle, a bronze age stone fort that includes a stone age Altar wedge tomb. In the afternoon, we will take in the spectacular view from the Three Castle Head situated on the edge of a 100 meter cliff on the Mizen peninsula as well as visiting the colorful villages of Skibbereen and Clonakilty along the way.

5:00 pm Overnight in Bantry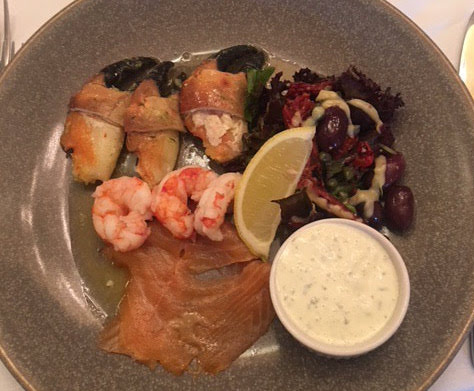 Day 5
"West, we must go!"
A wander in Bantry Market to assemble a picnic lunch of delicious West Cork Cheese, fresh fruit and other tempting treats. The bus will continue north along the beautifully scenic Healy Pass through Kenmare and Killarney to our destination of Inch beach on the Dingle Peninsula. We will take the back roads to Dingle and visit some local landmarks including St.John the Baptist Holy Well and Minard Castle.
Once we settle in our hotel, the town is yours to explore. This will be the party of the year with Feile Beltaine happening in town. The craic will be 90 as they would say in Kerry. Dingle will be hopping with art, sessions, restaurants, pubs people and shops. A couple of my favorite local gems are Kennedy's and Foxy Johns.

5:30 pm – Benner's Hotel in the heart of Dingle town.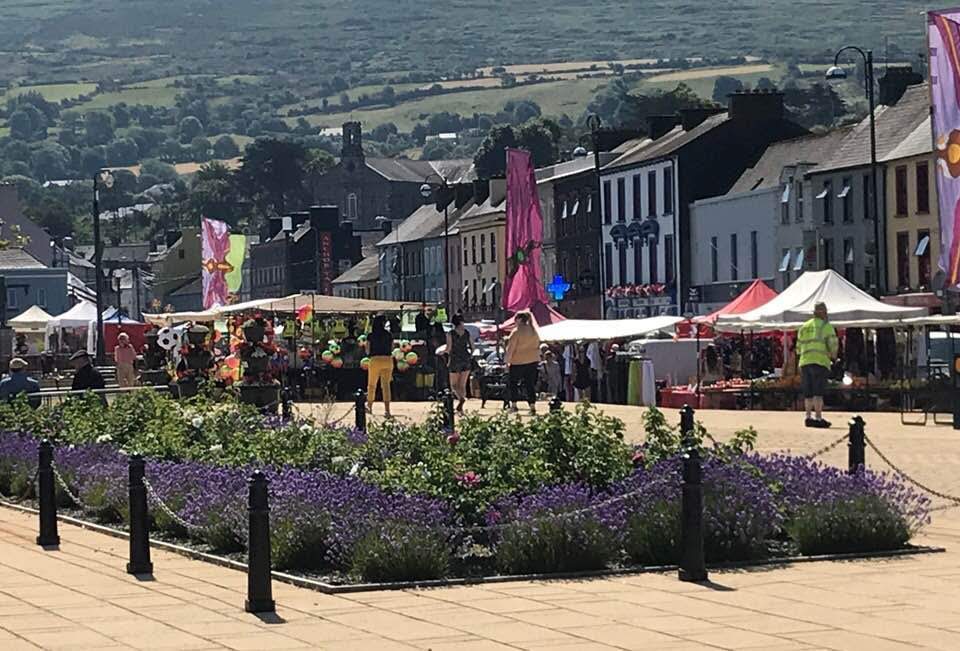 This morning we take in the stunning beauty of West Kerry. We will visit a few places such as Kilmalkedar Abbey and many other interests along the way. We may be joined by uilleann piper and composer, Eoin Duignan who will share his talent.
The afternoon and evening we are going to be part of this great festive festival, the likes that we will never see at home.
Overnight in Dingle.

Day 6
"The Sacred Way"

10:00 am Depart
A Morning walk to the Chapel of the Sacred Heart in downtown Dingle to admire the stained glass art of Harry Clarke. One of Ireland's great artists. h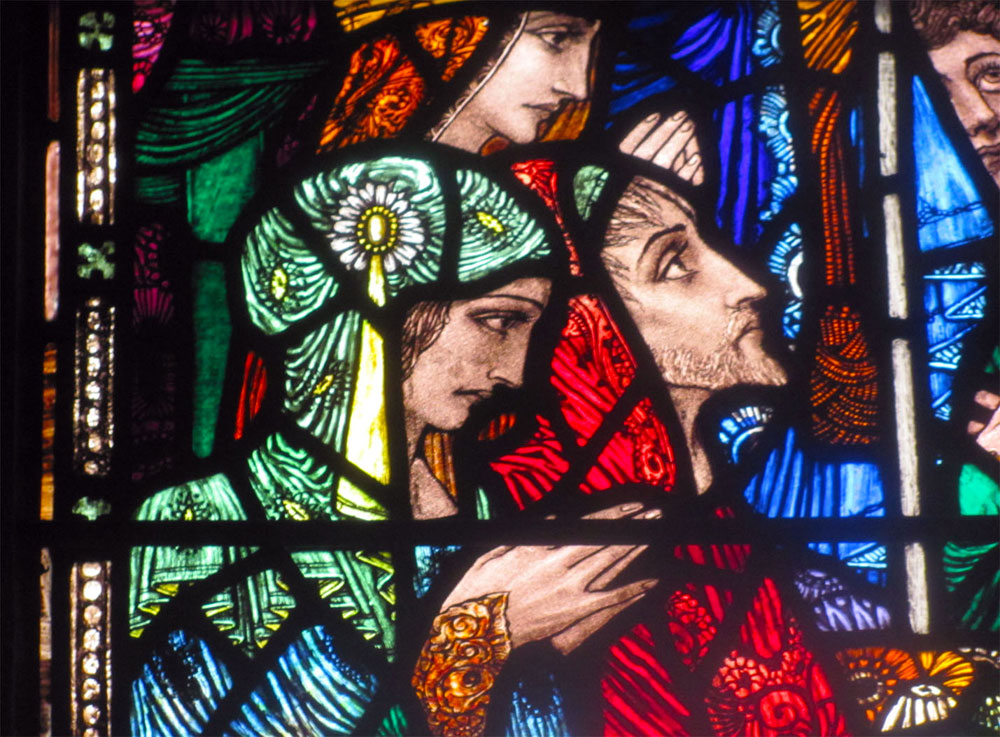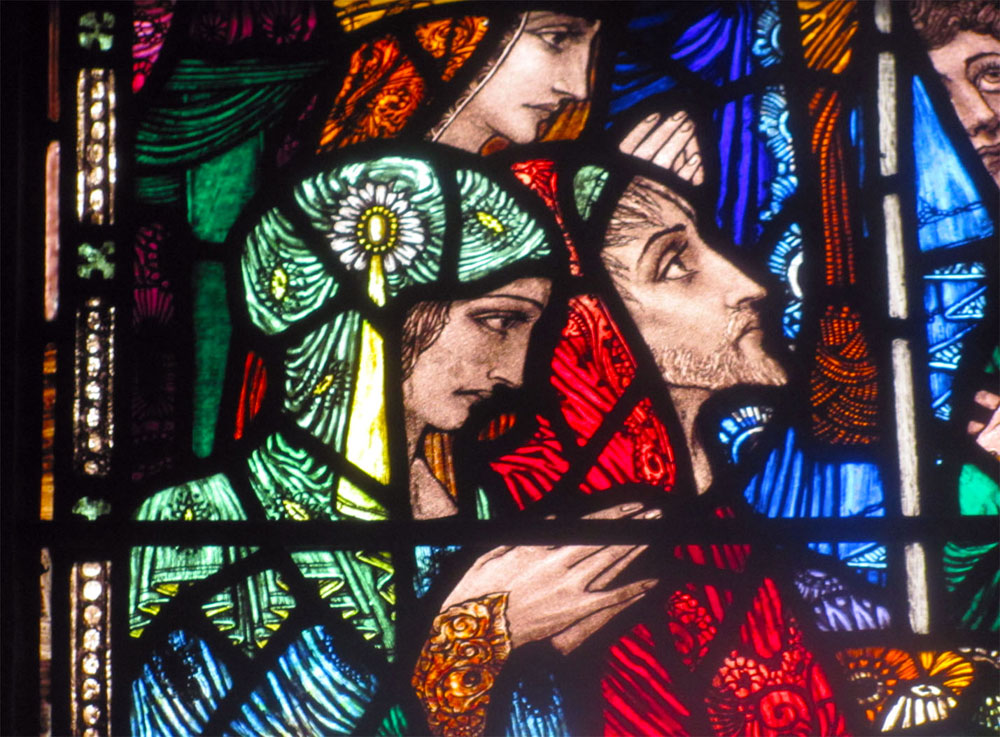 From there we take a drive west to beautiful Slea Head. All we ask for is a beautiful day!
We will stop along the way at the Blasket Island visitor center to enjoy a breathtaking walk along the cliffs. Today you can have choice. You can stay in Dingle town and have a wander and explore the shops and pubs at your own pace or maybe prefer to take a boat and hike the Blasket Islands. The trip from Dunquin will have to be booked in advance. Otherwise come discover the beauty of the west and visit and a other early sites along the beautiful Slea Head Drive. Dinner tonight is on your own. There are so many great eating establishments in Dingle, you can't go wrong. There will be sessions and music galore in town as well as a wedding happening in the hotel. Overnight in Dingle.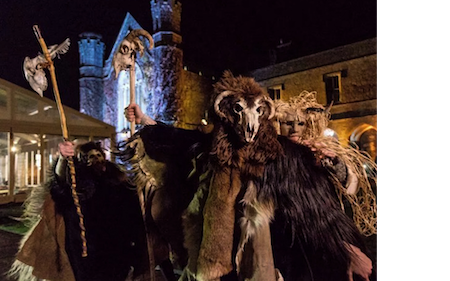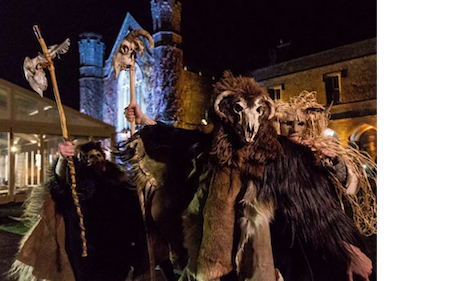 Day 7
"The Place of Kings"
We say farewell to Dingle and begin the next phase of our journey with a visit Tubar na Molt Holy Well in Ardfert before making our way towards Uisneach for the evening Beltaine Fire Ceremony. This fire marking the festival of Unification as we cross from the dark half to the light half of the year. Kings, Priests and Princes travelled from as far away as the Middle East 6000 years ago for the rekindling of this fire. Now we are planning on being there for this magical celebration.
Overnight in Athlone.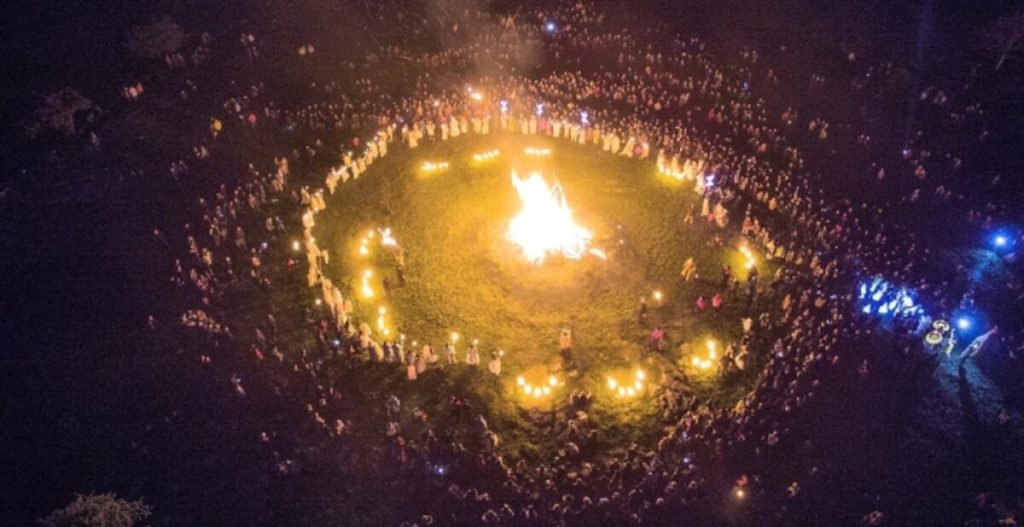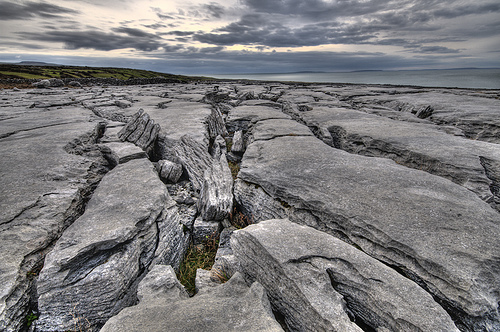 Day 8
"Saint Coleman's Way"
Our stops today will include Disert O Dea Norman Castle and Holy Cross Abbey. We will be joined by author Jack Roberts who will converse and share his thoughts about Celtic traditions and symbolism. We go forth to explore the rocky and uniquely beautiful landscape of the Burren. Our walk will be along the Road of the Flying Dishes to St. Coleman's cell. This peaceful saint fasted and prayed in this cave before becoming known as a holy man.We will make our way back to Killaloe for our farewell dinner.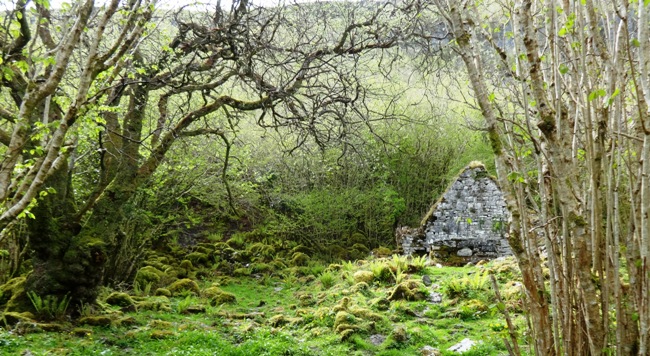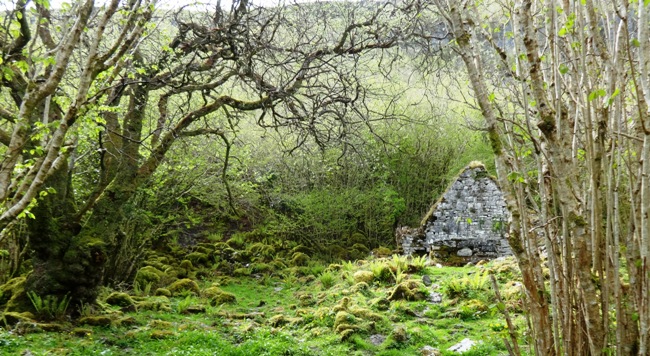 Day 9
"The Road Home"
8:00 am Depart

After breakfast, we say our farewells and make our way to Shannon Airport for departing flights. Those that are staying to catch the bus, can either be dropped off at Shannon or Limerick. Safe travels one and all.

8 nights 9 days
Cost: $3650 per person* $450 single sup.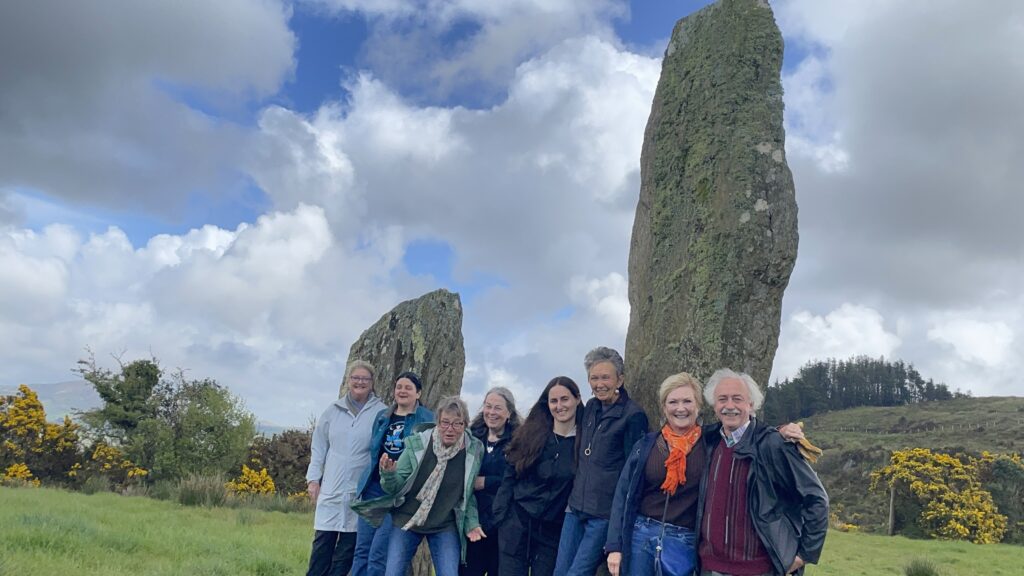 Single room supplement is $435
Limited to 16 persons
Cashiers checks and Money Orders made out to Irish Spirit Tour
and mailed to IST 45 College Ave. Medford, Mass 02155
Credit Card Payments received over the phone Call 781 738- 5063


Included in the Tour
All ground and ferry transportation

Accommodation in quality 4-star hotels

All breakfasts and most evening meals – see tour itineraries for details

All admission charges to sacred sites

Tour guide, speakers and musicians fees

Gratuities and taxes on accommodation, meals, and portage

All rooms have private bathroom facilities and prices are based on sharing a twin/double room.

A limited number of single rooms are available, a single supplement charge as specified applies
Not Included
International flights to Ireland
Lunches and those evening meals listed as 'not included'
Beverages except tea, coffee and water with meals
Personal shopping
Personal, medical or trip cancellation insurance.
Gratuity for Coach Driver
Travel Insurance
Irish Spirit Tour takes no responsibility for delayed airlines and missing the tour's start, lost baggage, or any injuries that may occur while on tour. We recommend purchasing travel insurance to cover cancellation fees, airline tickets, and medical expenses.
Cancellation Policy
Exceptions to this policy cannot be made for any reason, including those of weather or personal emergencies. Single room supplements are considered part of the trip price and are subject to cancellation fees. If by chance that Irish Spirit Tour must cancel a trip due to natural disaster, or any other circumstance, all payments received to date will be refunded. Irish Spirit Tour is not responsible for expenses incurred in preparation for any cancelled trips, such as airline tickets or for costs incurred due to travel delays, flight cancellations, or illness. If you had to change your tour plans, you can always reschedule to one of our other trips.
Cancellation and Reschedule
Cancelled x number of days
prior to tour's start date
Cancellation Fee
60 days
10% of deposit
31 – 60 days
50% of tour price
0 – 30 days
No refund